The Country Music Hall of Fame and Museum is one of the world's largest and most active popular music research centers and the world's largest repository of Country_music country music artifacts. Early in the 1960s, as the Country_Music_Association's (CMA) campaign to publicize country music was accelerating, CMA leaders determined that a new organization was needed to operate a country music museum and to carry out research and education activities beyond CMA's scope as a trade organization. Toward this end, the nonprofit Country Music Foundation (CMF) was chartered by the state of Tennessee in 1964 to collect, preserve, and publicize information and artifacts relating to the history of country music. Through CMF, industry leaders raised money with the effort of CMA Executive Director
Jo Walker-Meador, to build the Country Music Hall of Fame and Museum, which opened on April 1, 1967. Located at the head of Music Row, the museum was erected on the site of a small Nashville city park. At this point, artifacts began to be displayed and a small library was begun in a loft above one of the museum's galleries.
Early in the 1970s the basement of the museum building was partially complete, and library expansion began, embracing not only recordings but also books and periodicals, sheet music and songbooks, photographs, business documents, and other materials. At the outset, CMA staff had run the museum, but by 1972 the museum (already governed by its own independent board of directors) acquired its own small staff, which has steadily increased to over 150 full-time professionals. This will be a 1 1/2 self guilded tour.
Lane Motor Museum
In 2002, Jeff Lane established Lane Motor Museum. Jeff has been an automotive enthusiast since an early age. He began restoring his first car—a 1955 MG TF—when he was a teen. His personal collection was the donation that began the foundation. Lane Motor Museum unveiled its collection to the public in October of 2003. As director, Jeff Lane continues to search out cars for the collection that are technically significant or uniquely different. The goal of Lane Motor Museum is to share in the mission of collection and preserving automotive history for future generations.
Lunch at the Manor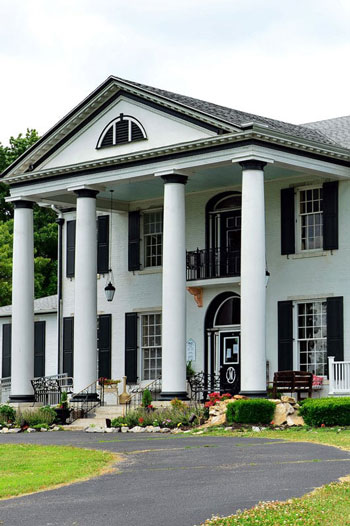 Monell's at the Manor Restaurant, Nashville Family Style Dining & Catering All meals are served with our famous fried chicken, meats of the day, several hot southern vegetables, salads, drink, Thursday lunch will be sliced Roast Beef with Gravy & meatloaf. This will happen at the Colemere Massion.
Colemere Mansion was built in 1898 by the Colonel E.W. Cole, a former Confederate officer who served under Confederate General Robert E. Lee. Colonel "King" Cole later became president of the Nashville, Chattanooga and St. Louis Railway and socialized with such Southern aristocrats as the Vanderbilt and Biltmore.